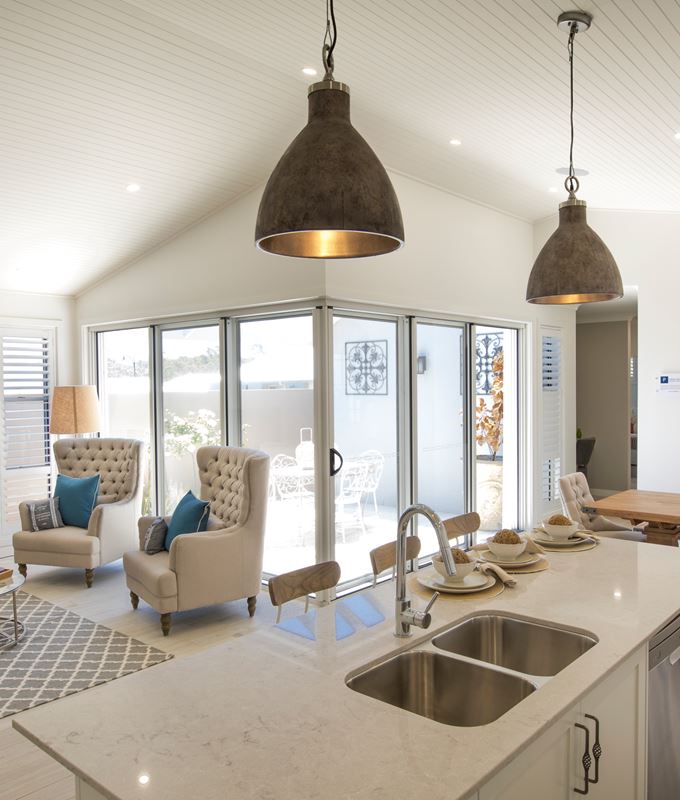 Your first home in Huntlee
Are you looking to build your first home of your own? Are you looking for a great new place for it?  A place that has top town facilities underway and great freeway connections? Then Huntlee is the place for you.
And we can help you reach your dreams fast. If you're buying your first home, we'd like to give you up to an extra $5,000 savings! Yes, we mean it!   Complete the enquiry form to find out how this great offer works - and get a great tips book on how to buy as well.
Let us tell you more about Huntlee and the Accelerate offer.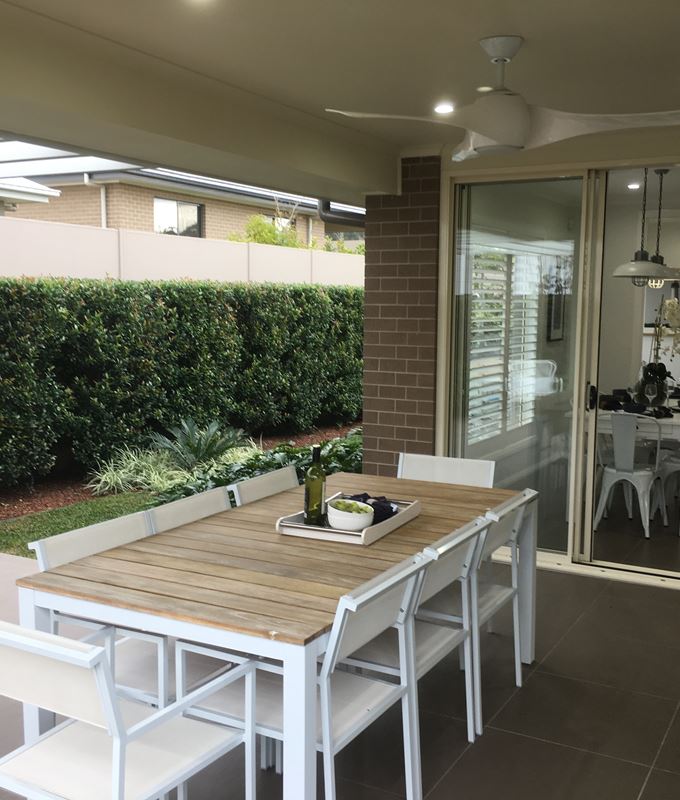 Accelerate into your new home with Huntlee
An easy way to save!
We know its tough saving for your first home.  So to make it easier, we've got this fantastic bonus - just for first homebuyers. 
Deposit at least $100 per month into your savings account from the time you pay your first deposit, until settlement. One month pre settlement, present your statement to us at Huntlee and we'll add up to $5,000* into your account.  
Our way of welcoming first time homeowners into Huntlee.
 *Terms and Conditions apply, see below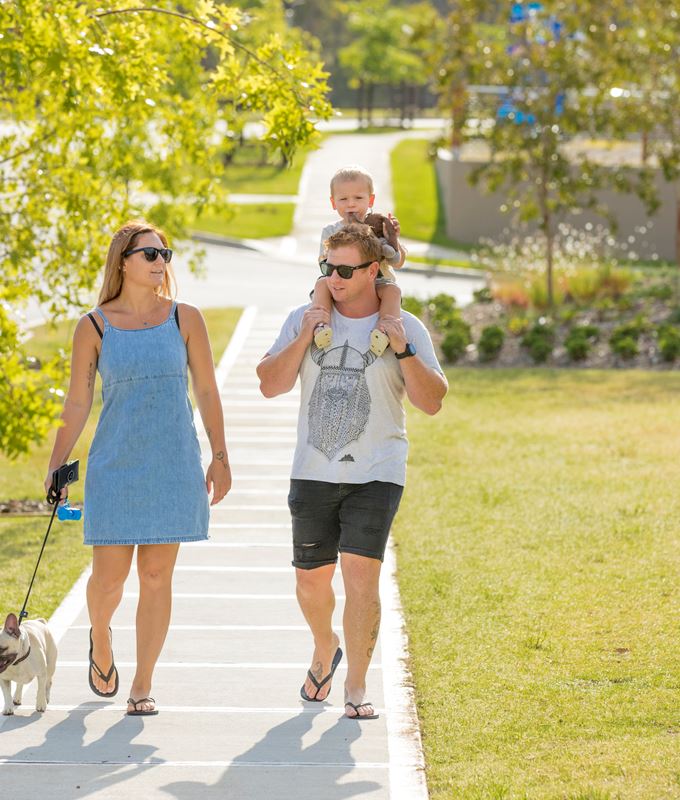 Huntlee Lifestyle
Living in the village of Katherine's Landing
Huntlee is the new town in the heart of the Hunter Valley. It is designed to grow as a traditional, vibrant neighbourhood with convenient access to everything you'll need.
Huntlee is the first new town being built in the Hunter Valley for more than 50 years. 
Easy access to Newcastle, Central Coast and Sydney. So living at Huntlee means that you can have a great quality of life while still working in the hustle and bustle if you want to!
There will be a wide range of shops and supermarkets together with schools, medical facilities, parks and cycleways.
Our first village, Katherine's Landing, is emerging as a friendly, close-knit community, a great place to build your first home.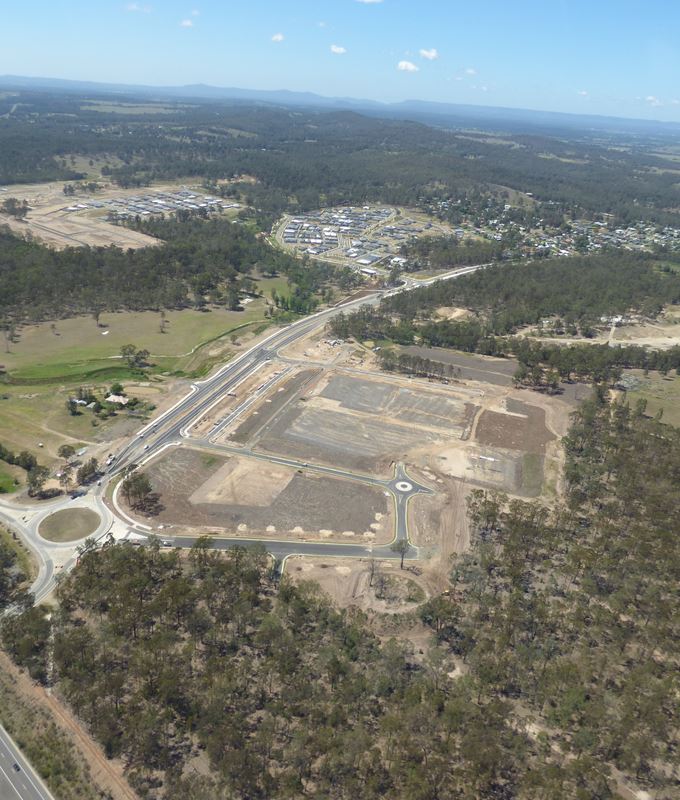 Motorway Access
Great Connections to Newcastle and Sydney
Huntlee is located right at the start of the M15.  That means you can be on your way to Newcastle, Central Coast, Sydney in a matter of moments.  The bright lights aren't too far away!
Huntlee is also perfectly positioned if you work in the mining industry at Muswellbrook and beyond - the New England Highway is just as close at the M15.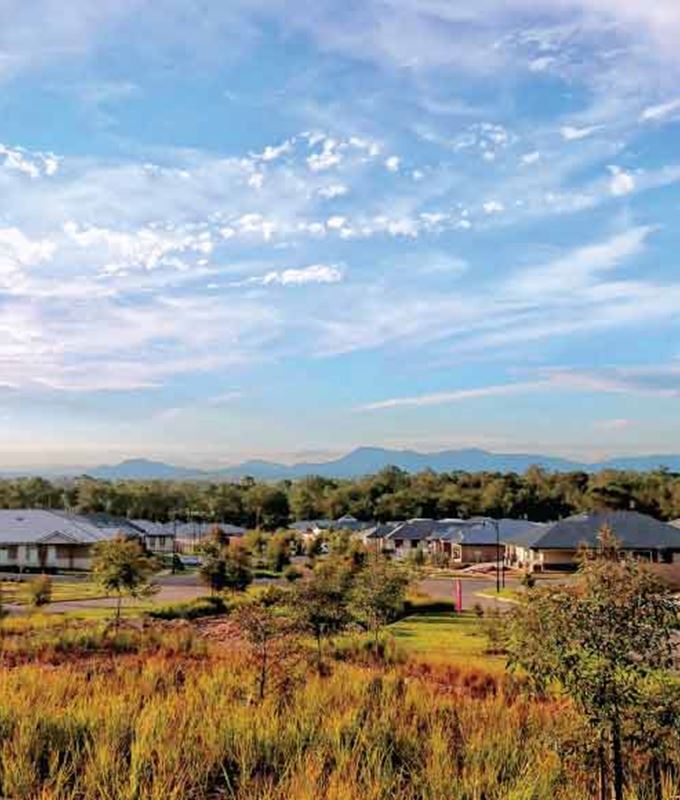 What's available?
Wide range of land at Huntlee
Huntlee has a very wide range of lot sizes available, so there's sure to be something to suit your budget.  Check out our interactive map in the land for sale section.
To complement our wide range of lots, we work NSW's premier builders to bring you a great selection of house and land options.  Get some inspiration - come and visit our New Home Display Village (including some brand new McDonald Jones homes).  Come and visit to see how you could bring your dreams of a new home and lifestyle to life.
And, when you buy at Huntlee, we give you a great range of extras, all included in the price. Huntlee Advantages is worth $16,500 to you.
Huntlee Advantages
Front yard landscaping
a beautiful bonus for you
Huntlee Water
(no rainwater tank required)
High Speed internet
cost of fibre to premises is included
Natural Gas
reticulated natural gas line provided to every lot
Extras worth $16,500 including all these above, plus more like a 10 day cooling-off period (no-one needs to be rushed into a life-changing decision so we're giving you plenty of time to do your homework.) *A 10-day cooling off period applies to registered lots only.
Learn more
System.Web.HttpException (0x80004005): Error executing child request for handler 'System.Web.Mvc.HttpHandlerUtil+ServerExecuteHttpHandlerAsyncWrapper'. ---> System.NullReferenceException: Object reference not set to an instance of an object.
   at ASP._Page_Views_Grid_lotCarousel_Index_cshtml.Execute() in C:\inetpub\wwwroot\lwp-umbraco8\Views\Grid\lotCarousel\Index.cshtml:line 21
   at System.Web.WebPages.WebPageBase.ExecutePageHierarchy()
   at System.Web.Mvc.WebViewPage.ExecutePageHierarchy()
   at System.Web.WebPages.WebPageBase.ExecutePageHierarchy(WebPageContext pageContext, TextWriter writer, WebPageRenderingBase startPage)
   at Umbraco.Web.Mvc.ProfilingView.Render(ViewContext viewContext, TextWriter writer) in D:\a\1\s\src\Umbraco.Web\Mvc\ProfilingView.cs:line 25
   at System.Web.Mvc.ViewResultBase.ExecuteResult(ControllerContext context)
   at System.Web.Mvc.ControllerActionInvoker.InvokeActionResultFilterRecursive(IList`1 filters, Int32 filterIndex, ResultExecutingContext preContext, ControllerContext controllerContext, ActionResult actionResult)
   at System.Web.Mvc.ControllerActionInvoker.InvokeActionResultFilterRecursive(IList`1 filters, Int32 filterIndex, ResultExecutingContext preContext, ControllerContext controllerContext, ActionResult actionResult)
   at System.Web.Mvc.ControllerActionInvoker.InvokeActionResultFilterRecursive(IList`1 filters, Int32 filterIndex, ResultExecutingContext preContext, ControllerContext controllerContext, ActionResult actionResult)
   at System.Web.Mvc.ControllerActionInvoker.InvokeActionResultFilterRecursive(IList`1 filters, Int32 filterIndex, ResultExecutingContext preContext, ControllerContext controllerContext, ActionResult actionResult)
   at System.Web.Mvc.ControllerActionInvoker.InvokeActionResultFilterRecursive(IList`1 filters, Int32 filterIndex, ResultExecutingContext preContext, ControllerContext controllerContext, ActionResult actionResult)
   at System.Web.Mvc.ControllerActionInvoker.InvokeActionResultWithFilters(ControllerContext controllerContext, IList`1 filters, ActionResult actionResult)
   at System.Web.Mvc.Async.AsyncControllerActionInvoker.<>c__DisplayClass3_1.<BeginInvokeAction>b__1(IAsyncResult asyncResult)
   at System.Web.Mvc.Async.AsyncControllerActionInvoker.EndInvokeAction(IAsyncResult asyncResult)
   at System.Web.Mvc.Controller.<>c.<BeginExecuteCore>b__152_1(IAsyncResult asyncResult, ExecuteCoreState innerState)
   at System.Web.Mvc.Async.AsyncResultWrapper.WrappedAsyncVoid`1.CallEndDelegate(IAsyncResult asyncResult)
   at System.Web.Mvc.Controller.EndExecuteCore(IAsyncResult asyncResult)
   at System.Web.Mvc.Async.AsyncResultWrapper.WrappedAsyncVoid`1.CallEndDelegate(IAsyncResult asyncResult)
   at System.Web.Mvc.Async.AsyncResultWrapper.End(IAsyncResult asyncResult, Object tag)
   at System.Web.Mvc.MvcHandler.<>c.<BeginProcessRequest>b__20_1(IAsyncResult asyncResult, ProcessRequestState innerState)
   at System.Web.Mvc.Async.AsyncResultWrapper.WrappedAsyncVoid`1.CallEndDelegate(IAsyncResult asyncResult)
   at System.Web.Mvc.MvcHandler.EndProcessRequest(IAsyncResult asyncResult)
   at System.Web.Mvc.HttpHandlerUtil.ServerExecuteHttpHandlerWrapper.<>c__DisplayClass5_0.<Wrap>b__0()
   at System.Web.Mvc.HttpHandlerUtil.ServerExecuteHttpHandlerWrapper.Wrap[TResult](Func`1 func)
   at System.Web.HttpServerUtility.ExecuteInternal(IHttpHandler handler, TextWriter writer, Boolean preserveForm, Boolean setPreviousPage, VirtualPath path, VirtualPath filePath, String physPath, Exception error, String queryStringOverride)
   at System.Web.HttpServerUtility.ExecuteInternal(IHttpHandler handler, TextWriter writer, Boolean preserveForm, Boolean setPreviousPage, VirtualPath path, VirtualPath filePath, String physPath, Exception error, String queryStringOverride)
   at System.Web.HttpServerUtility.Execute(IHttpHandler handler, TextWriter writer, Boolean preserveForm, Boolean setPreviousPage)
   at System.Web.HttpServerUtility.Execute(IHttpHandler handler, TextWriter writer, Boolean preserveForm)
   at System.Web.Mvc.Html.ChildActionExtensions.ActionHelper(HtmlHelper htmlHelper, String actionName, String controllerName, RouteValueDictionary routeValues, TextWriter textWriter)
   at System.Web.Mvc.Html.ChildActionExtensions.Action(HtmlHelper htmlHelper, String actionName, String controllerName, RouteValueDictionary routeValues)
   at Our.Umbraco.DocTypeGridEditor.Web.Extensions.HtmlHelperExtensions.RenderDocTypeGridEditorItem(HtmlHelper helper, IPublishedElement content, String editorAlias, String viewPath, String previewViewPath, Boolean isPreview)
   at ASP._Page_app_plugins_doctypegrideditor_render_doctypegrideditor_cshtml.Execute() in C:\inetpub\wwwroot\lwp-umbraco8\app_plugins\doctypegrideditor\render\doctypegrideditor.cshtml:line 28
   at System.Web.WebPages.WebPageBase.ExecutePageHierarchy()
   at System.Web.Mvc.WebViewPage.ExecutePageHierarchy()
   at System.Web.WebPages.WebPageBase.ExecutePageHierarchy(WebPageContext pageContext, TextWriter writer, WebPageRenderingBase startPage)
   at Umbraco.Web.Mvc.ProfilingView.Render(ViewContext viewContext, TextWriter writer) in D:\a\1\s\src\Umbraco.Web\Mvc\ProfilingView.cs:line 25
   at System.Web.Mvc.Html.PartialExtensions.Partial(HtmlHelper htmlHelper, String partialViewName, Object model, ViewDataDictionary viewData)
   at ASP._Page_Views_Partials_grid_editors_base_cshtml.Execute() in C:\inetpub\wwwroot\lwp-umbraco8\Views\Partials\grid\editors\base.cshtml:line 20