Adventure beckons 
Hunter Valley is not just famed for award-winning restaurants and wineries, but an array of hiking opportunities with pristine views waiting to be discovered. Time to escape the hustle and bustle of the city and take the path less travelled. Check out our compiled list below for your next Hunter Valley hiking getaway.
Watagans National Park 
Location: 
Olney NSW 
Travel Time:
45-min drive
Located an hour away from Newcastle, Watagans National Park is a shining example of Mother Nature at her best. The breathtaking terrain of this immaculate beauty is characterised by dramatic moss-covered walls and boulders, stately red cedar trees and vibrant Illawarra flame trees that are widespread all over the national park. Expect panoramic vistas toward gullies at Monkey Face and Gap Creek lookouts. Within the park, the Boarding House Dam picnic area is a popular spot with lots of paddling and hiking activities in the summer. Experienced hikers will enjoy the Turners' steep and challenging walking track which features scenic views of the rainforest with superb bird watching spots. Rich in culture and heritage, The Watagan Mountains has over 40 aboriginal sites displaying art and engraving techniques along with the settlement history of the area. Accommodation is available here with various designated camping sites, picnic spots and BBQ facilities. Experience this beautiful Hunter Valley park your way, whether via a 4x4 off-road adventure, by bike or by foot, and see something new each time you visit. 
Werakata National Park Loop
Location:
Lovedale NSW 
Travel Time:
28-min dive
For those seeking peace and solitude in nature, the Werakata National Park meets the brief. Located near Nukalba, this Hunter Valley trail is a remote park with basic amenities - just a few tables at the Astills picnic grounds. The park consists of majestic trees that stand tall all year long with an abundance of wildflowers that bloom during the spring season. Widely considered an easy route, the Deadmans loop is an 8.7km track through the Hunter Valley bushland with an elevation gain of 145m and takes approximately 2 hours to complete. The park provides habitat to many native bird species such as the speckled warblers, black-chinned honeyeaters, grey-crowned babblers, cockatoos, magpies and kookaburras which you'll probably encounter while exploring the trail. The list of things to do here include bushwalking, bird-watching, mountain biking or just chilling on grass plains. This Hunter Valley protected national park is a wonderful place to quiet the mind and immerse in nature. Mobile reception is limited in this park so be sure to download or print the map. Do note that dogs are not permitted here.
Yango Walking Track
Location:
Big Yengo NSW 
Travel Time:
2-hour drive 
Strap on your hiking boots and explore the picturesque Yango walking trail. A former logging trail, this 6km walk rewards you with views of the area's unique geology and stunning sandstone landscape. Ranked Grade 4, this track is rather challenging and some parts are rougher than others. The walk takes on average 3 hours and 30 minutes to complete, quicker for those familiar with the terrains. As you traverse along, you'll be greeted by the rare velvet wattle shrubs that are native to this region. Upon reaching the southern side of Mount Yego, you will see red cedar trees that are up to 45 to 60 metres and giant stinging trees. 
The best time to explore this trail is during autumn or spring when conditions are favourable. Birdwatching and photography are favourite pastimes amongst visitors. Long pants and enclosed shoes are recommended to protect from stinging nettles as contact with the plant can cause skin irritation. 
Hunter Valley Gardens
Location:
2090 Broke Road, Pokolbin 
Travel Time:
14-min drive
Spanning across 29 acres of greenery, Hunter Valley Gardens remains a crowd favourite in the region. What makes this place unique is the 10 international themed gardens located throughout the grounds including the Storybook Garden, Indian Garden, Chinese Garden, Italian Grotto, Sunken Garden, Lakes Walk, Oriental Garden and many more. With various sections to explore, the enchanting walk-through comprises a 10m waterfall, topiary displays, serene ponds, statues, murals, and architectural structures that are hard to rival or find anywhere else. Comprising 8km of walkways, this garden is filled with sensational sights along with one of Australia's finest rose gardens with floral scents wafting through the garden. Filled with flora and fauna, there are 6,000 trees, 600,000 shrubs and over 1 million plants on display. In the summer, over 1.5 million Christmas lights are installed, magically transforming the garden into an enchanted wonderland.
Pokolbin Mountains Road Lookout
Location:
Pokolbin NSW 2320
Travel Time:
19-min drive
Widely known as the best lookout in the Hunter Valley region, Pokolbin Mountains Road Lookout is located on private property. The trail is classified Grade 3 and you need to be moderately fit to embark on this Hunter Valley hike, with sections of steep paths and uneven surfaces. Taking an average of 2 hours and 30 minutes to complete, all will be worth it the moment you reach the apex as you will be rewarded with sweeping views of the region's oldest vineyards. The walk itself is about 7.5km long with plenty of opportunities for wildlife observation and photography. Go on a self-guided bushwalk and enjoy the tranquillity of the journey. Engage with a local tour guide to get access to this amazing lookout point. The sunrise and sunset views here are nothing short of awe-inspiring.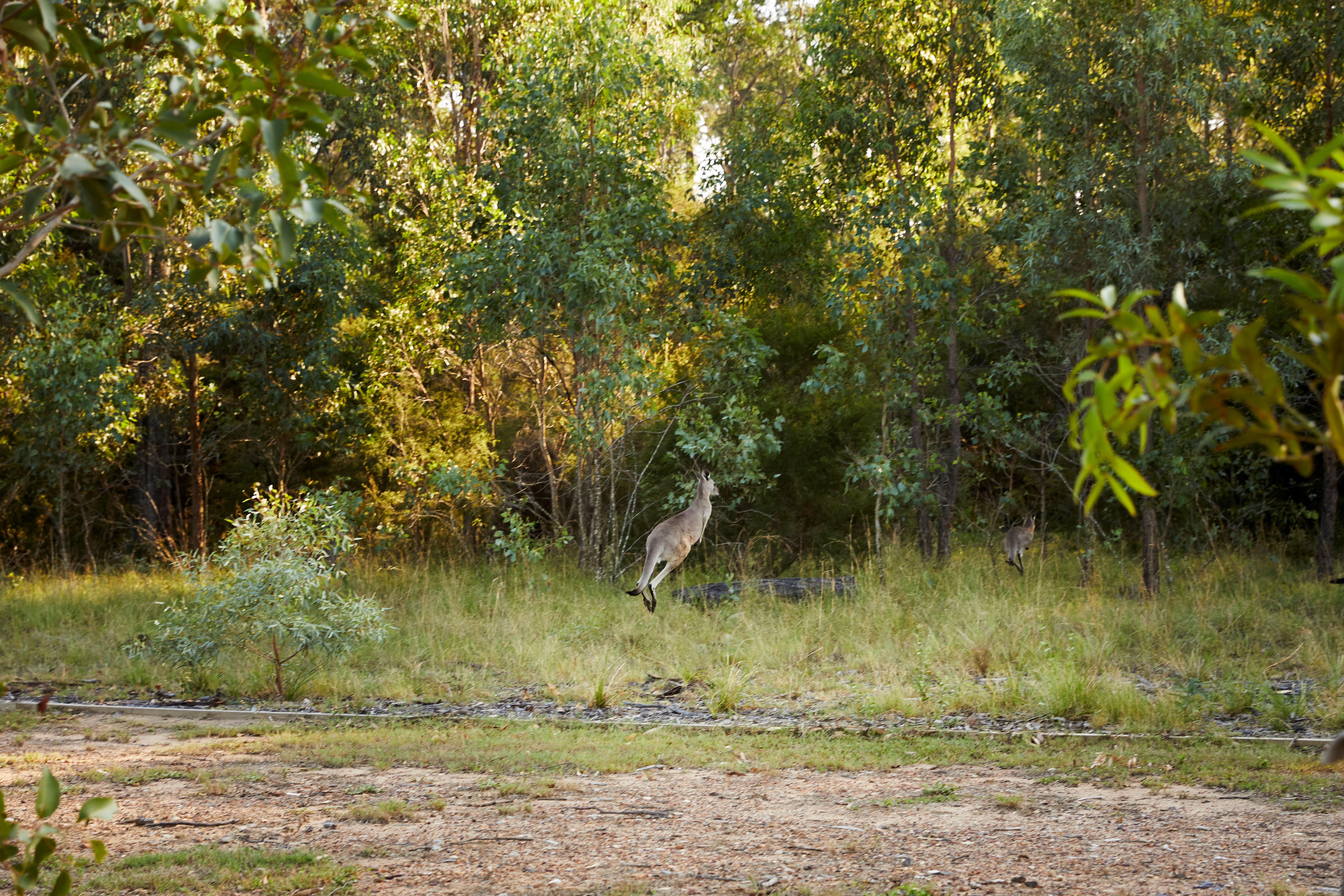 Len Evans Memorial Lookout
Location: 
Constable Estate Vineyard, 205 Gillards Road, Pokolbin
Travel Time:
14-min drive
Reputed as the 'Godfather of the Australian wine industry', Leonard Paul Evans helped shape the wine industry with his contributions as a promoter, maker, judge, taster, teacher and drinker of wine. After his passing in 2006, the Len Evans Memorial Lookout was built and unveiled in 2014 as a tribute to his achievements and his countless pioneering ways within the trade. Located at the Constable Estate, the 360° lookout offers breathtaking views of the vineyards and over the region.
Yellow Rock Lookout
Location:
Broke NSW 
Travel Time:
2 hours, 31-min drive
Nestled within the forestry end of the escarpment above Fraser Creek Gorge, Yellow Rock Lookout is a 15.3km route with an elevation gain of approximately 410m that requires an average of 4 hours to complete. Those who like spending time outdoors and appreciating the beauty of nature will cherish the incredible views of this quiet, often secluded spot. The lookout offers a lovely riverscape of the Nepean River, one of the region's greatest natural assets as well as views of the western Sydney area and Cumberland Plain. There are designated picnic spots where you can relax with family and friends. This trail is wonderful for bird-watching, bushwalking, running, and taking your dog for a stroll whilst you soak up the tranquillity of this Hunter Valley bushwalking adventure.
Mount Bright via Watagan Track
Location:
Watagan Track, Pokolbin 
Travel Time:
25-min drive
Experience remote wilderness at its best via the Watagan Track. This peaceful route is a 7.9km out-and-back trail near Pokolbin, with an elevation gain of 374m. To get to Mount Bright, expect to travel by foot via Watagan Track for close to 3 hours in what many consider to be a moderately challenging trail. Absorb the beauty and serenity of this area with views of farmland and bushland as you journey along. Upon getting to the top of the hill, you'll be rewarded with views of the lush rolling Hunter vineyards. Plus point - this place has few people; you get the privacy of this place all to yourself. Dogs are welcome, but must be leashed.
Hunter Valley Vineyards Walk
Location:
455 Wine Country Drive, Pokolbin 
Travel Time:
12-min drive
The Hunter region is famous for its vineyards. Therefore, exploring the beautiful wineries in the area is recommended if you are seeking to escape for a few hours. Located about 52 km west of Newcastle, this looped route in Pokolbin starts from the parking area of the Hunter Valley Visitor Information Centre. From here you'll go north and walk along Wine Country Drive and then take a left onto Broke Road. Keep walking until you see acres and acres of vineyards in the area. The trail itself is mostly along roads and the walk isn't shaded. The loop is 15.4km and is considered a moderately challenging route with an elevation gain of 210m - it should take you approximately 3 hours and 30 minutes to complete.
Hunter Lookout and Great North Walk Loop
Location:
Olney NSW 2325, Australia
Travel Time:
49-min drive
With promising views over the region, this Hunter Valley trail starts from the Hunter Lookout picnic area and follows the Great North Walk around the edge via the Macleans Lookout, Rocky Creek gully and the cliff surrounding the eastern edge of the ridge. The fenced lookout has picnic tables for a snack-stop, BBQ pit and toilets. The views from the top are simply breathtaking. This 5.6km loop track with an elevation gain of 336m is ranked Grade 4 and is considered hard. You need to be fit and agile to hike this trail. Averaging 2 hours and 30 minutes to complete, soak up the serene views of the landscape. The return journey is on a dirt road, passing through the pines plantation and the Rocky Creek camping site.
Hominy Creek Walking Track
Location:
Glenworth Valley NSW
Travel Time:
1 hour, 38-min drive
Popran National Park is an Aboriginal heritage site on the NSW Central Coast. Comprising 3,970 hectares of green reserve, Popran is home to a mix of waterways, hiking trails and glorious landscapes. Explore the lush terrain of this 5km route via the Hominy Creek hiking trail until you reach the secluded Emerald Pool. This pool makes the perfect swimming spot with its crystal clear water and emerald tinge. The natural beauty of this trail is lined with ferns and majestic eucalypts and is also home to the green and golden bell frog as well as the red-crowned toadlet.
Mount Olive Trail
Location:
Glenworth Valley NSW
Travel Time:
1 hour, 32-min drive
Horse riding is a wonderful way to take in the sights and explore the area you are visiting. With its spectacular views of the Glenworth Valley, exploring the Mount Olive Trail in Popran National Park on horseback lets you enjoy your journey at a leisurely pace. Catch tantalising glimpses of native birds such as kookaburras and black cockatoos as you continue your way forward. Once you hit the trail, take a short detour to Mount Olive lookout. The walk is not long, however, it gets steeper as you approach the summit. But it will be worth the effort. The views over the surrounding forest and distant ridgelines are magnificent. The journey continues past Mount Olive for 3.5km with views overlooking the Hawkesbury River.