The history of Huntlee
A new town in the heart of the Hunter, Huntlee has come a long way since news of this township was pitched by developers in 1961. Even though the planning of this estate had a few setbacks in its early days, Huntlee persevered in its vision and earned its title as a sought-after land estate in the region. Here are some interesting facts you may not know about this Hunter Valley town.
A gem waiting to be discovered
Before its development, Huntlee had to contend with 90 other possible new town sites that were also on the list in the Lower Hunter Regional Strategy - a plan developed by the New South Wales government to guide the development of the Hunter Valley region. Fortunately, approving Huntlee as a new town site was an easy decision as the estate has several key factors that will make livability a reality in its development venture.
Firstly, Huntlee is strategically located near major roads and highways, ensuring residents have easy accessibility to other parts of the region or nearby cities. Secondly, Huntlee is blessed with stunning natural beauty, rolling hills, forests, and national parks. Vineyards surround Huntlee, and they form a part of one of Australia's oldest and most prestigious wine regions. Last but not least, Huntlee was selected due to its large land size of 200 hectares and the viability of transforming what used to be parcels of agricultural land and bushes into mixed-use residential, retail, and commercial uses.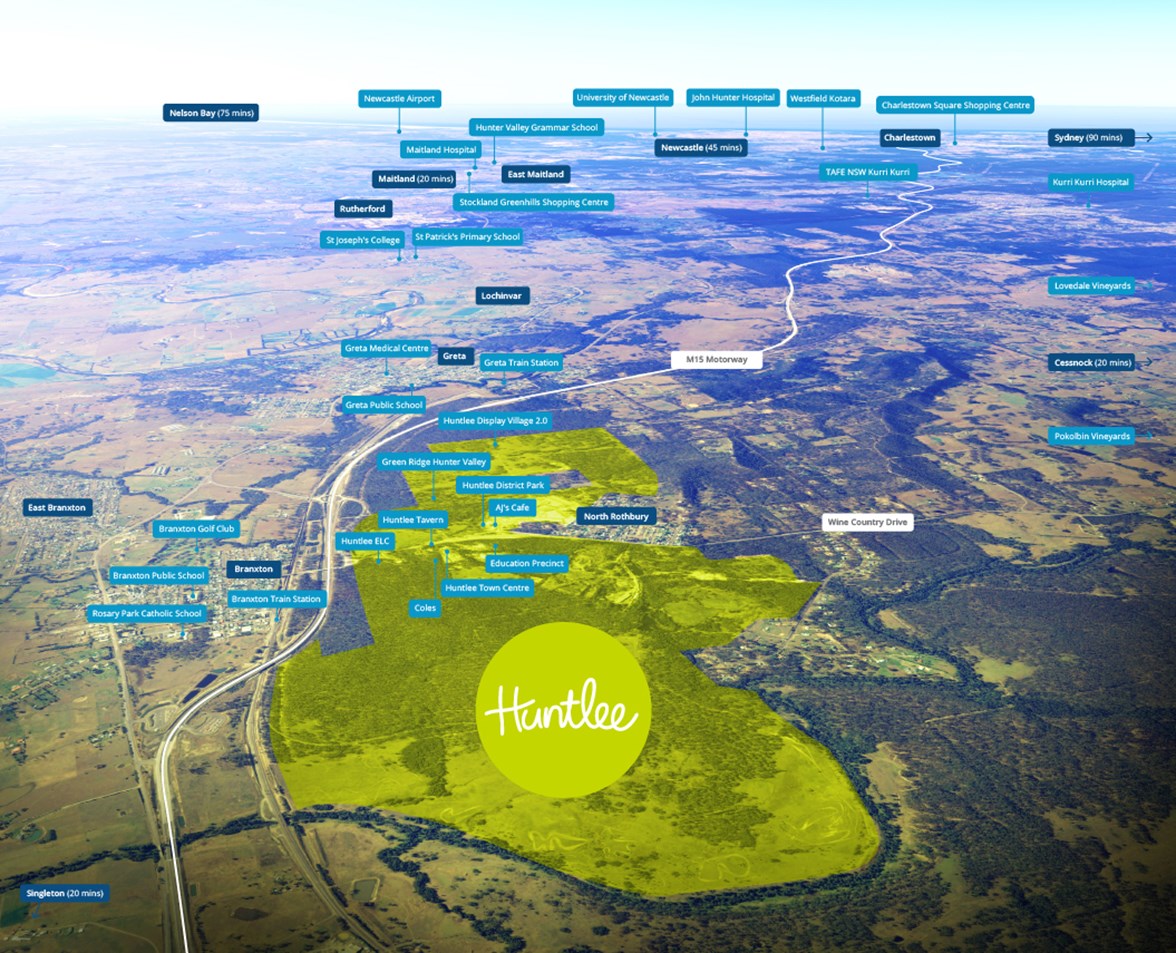 Home to an endangered native tree species
It's not uncommon for new developments to sometimes encounter obstacles from environmental activists and residents who are concerned about the impact of land and resources due to urbanisation. In the early days, the development of Huntlee was said to threaten a surviving pocket of an endangered native tree, the Persoonia pauciflora. To ensure the sustainability of this endangered tree, LWP Property Group, the developer of Huntlee reserved 17 hectares of land as part of their commitment to preserving the local environment.
This conservation reserve is a public pledge to ensure the protection of the native tree and a clear demonstration of the developer's placemaking efforts toward promoting the sustainability and habitability of Huntlee for future generations. By incorporating environmental protection and conservation into its development plans, Huntlee is setting a positive example for other new developments.
How Huntlee's first village, Katherine's Landing, got its name
The Hunter Valley history has a strong indigenous heritage with a mining, agricultural and viticultural narrative. When the plan to launch the estate was approved, Huntlee became the first new town in the Hunter in over fifty years. Naturally, Katherine's Landing got its name inked in history by becoming the first village to emerge within that town.
The origin of the name Katherine's Landing is an interesting one. The village was named after the 20-year-old Katherine Busby, a lady from England who immigrated in 1824 on the ship Triton. Also onboard the ship was Katherine's brother, James Busby, who eventually became the Father of the Australian Wine Industry. James Busby planted vines at Kirkton in 1830 and the first commercial vineyard in NSW was born. Katherine met her future husband on the Triton and her husband, along with her family helped shape and define one of Australia's most famous wine-making regions.
Katherine's Landing is a homage to the pioneering viticulturists and was named in honour of the first wine-growing family in the Hunter. Curious about how the "Landing" word came about? It refers to an old private aeroplane landing strip that runs along the ridgeline. The open space of the landing strip continues to be a popular spot for residents and visitors to look out over the village.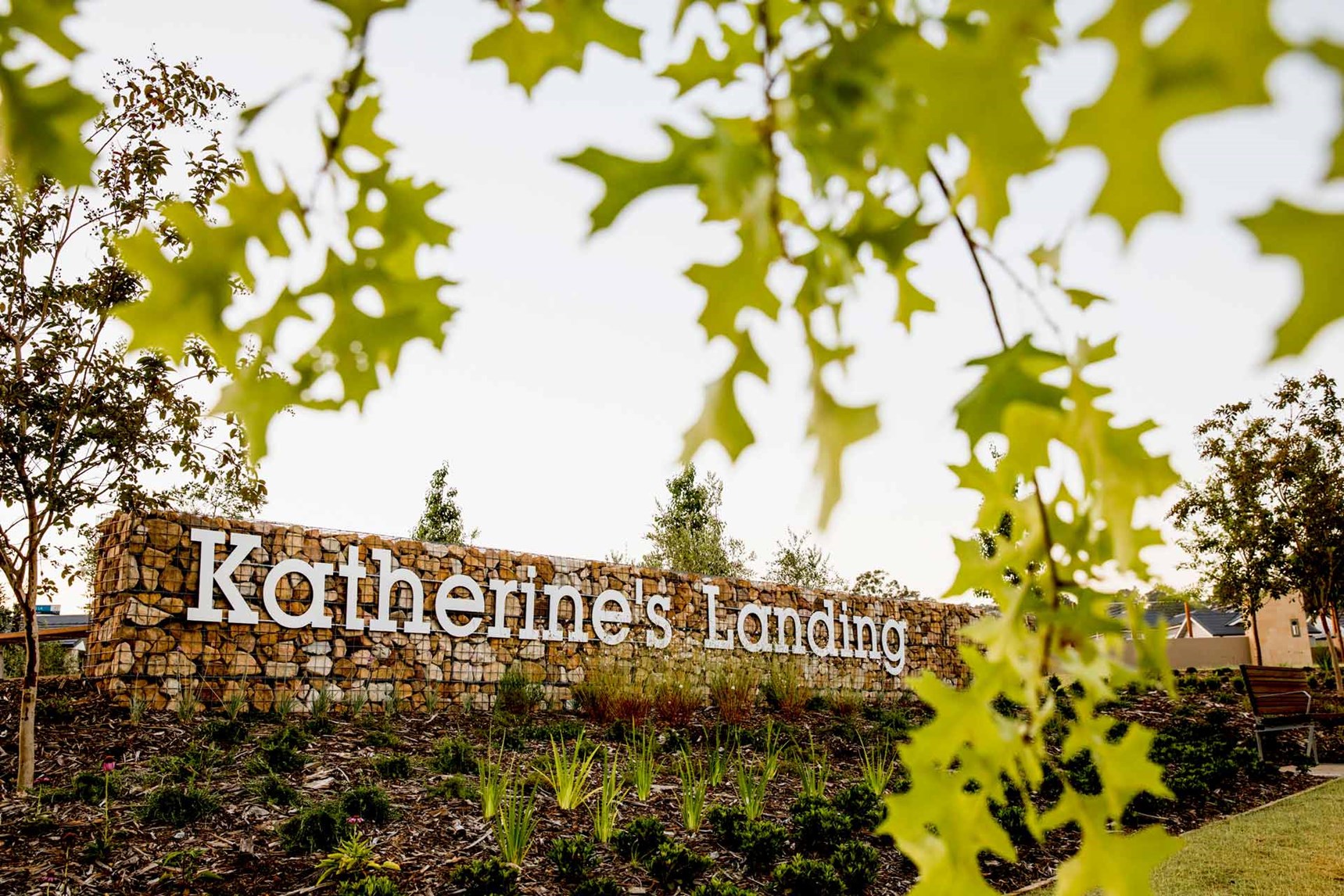 A new lease of life
Today, Huntlee is living out its vision as a thriving township with a vibrant residential and commercial centre. This master-planned development offers a unique combination of accessibility, natural beauty and land availability. Huntlee also plays a vital role in providing much-needed affordable housing and commercial development to meet demand in the region, helping to ease the population pressures from Sydney. Over 30 years, an estimated $1.5 billion will be invested to elevate Huntlee into a township with global appeal, making it a desirable destination for those who enjoy a relaxed, countryside lifestyle with modern amenities.