Culinary hotspots you'll love
Brimming with good food, wine and culture, Hunter Valley is home to many fine-dining establishments, casual eats and bars, and just a stone's throw away from Huntlee. Meet up with your favourite people or simply treat yourself to a good meal, these options will compel you to return time and again.
Restaurants
Location:
2188 Broke Road, Pokolbin 
Travel Time:
13-min drive
Opening Hours:
Monday – Sunday: 8.00am – 2.00pm
Get the right start to your day with the perfect brekkie at Fawk Foods. A spin-off by Frank Fawkner, head chef at EXP. Restaurant, Fawks Foods Kitchen & Bakery has hit its stride with a simple menu that features really good breakfast food. Think homemade potato hash, bacon and free-range eggs breakfast, elevated. If you're feeling extravagant, the oven-baked pancakes with caramelised apples, Chantilly cream, macadamia crumb and maple syrup is the one to try. The coffee is excellent too. Our tip is to get in early as this place gets packed fast.
Location:
1238 Milbrodale Road, Broke 
Travel Time:
27-min drive
Opening Hours:
Monday – Sunday: 10.00am – 5.00pm 
Margan Restaurant has a strong focus on local and seasonal produce. Set against the backdrop of glorious vineyard and Brokenback Range views, this highly acclaimed restaurant in Broke features an incredible farm-to-fork tasting menu. A family-owned and operated business, the kitchen's commitment to sustainability is second to none. The ingredients are either estate-grown or procured within a short distance from the restaurant to ensure produce is at its freshest before it gets served on a plate. Margan's contemporary fine dining is a one-hatted establishment that features a stunning 5-course dining menu that is updated weekly. There's also a vegetarian, plant-based and pescatarian menu available. 
Location:
57 Ekerts Road, Pokolbin
Travel Time:
15-min drive
Opening Hours:
Monday – Thursday: 11.00am (Terrace menu), 6.00pm (À la carte & Avido menus)
Friday – Sunday: 12.00pm – 3.00pm (À la carte & Avido menus), 6.00pm (À la carte & Avido menus)
The éRemo Restaurant is a modern take on Italian cuisine. Upon arrival, you'll be greeted by spectacular lighting which doubles as an art piece at this dining establishment. The menu is a celebration of Italian cuisine with a strong Australian influence. The dishes here are informed by the season and boldly explore all regions of Italy. Executive chef Michael Elfwing expertly takes fresh produce and turns them into culinary gold. Whole duck, venison, beef, pasta and root vegetables are staples here. The wine list features the best of Australian wines and a liberal selection from Italy and France.
Location:
749 Mount View Road, Mount View 
Travel Time:
25-min drive
Opening Hours:
Thursday – Monday: 12.00pm – 3.00pm
Friday: Dinner group bookings by appointment only
Saturday: 7.00pm - 9.00pm
A beautiful restaurant perched on the foothills of Mount View, Bistro Molines immediately transports you to the French countryside with its country-chic decor and sweeping vineyard views. Chef and owner, Robert Molines along with his wife, Sally, has been wowing diners since 2008 with their Hunter Valley restaurant. A wonderfully charming place with ita light-filled interior, this European-inspired establishment serves up an incredible plate-to-table experience. With respect for seasonality, the menu here showcases quality ingredients from local producers in a revolving menu of Provincial dishes. Drool-worthy entrees include baked figs with gorgonzola wrapped in prosciutto and the asparagus tart with leek cream. For mains, the perfectly cooked roasted duck with orange glaze is a hit with many diners. And the desserts are equally impressive. All courses can be accompanied by an extensive wine list to pair with your food. 
Location:
12 Wilderness Road, Lovedale 
Travel Time:
15-min drive
Opening Times:
Thursday: 12.00 – 3.00pm
Friday & Saturday: 8.00am – 11.00am, 12.00 – 3.00pm, 6.00pm – 9.00pm
Sunday: 8.00am – 11.00am, 12.00 – 3.00pm
Located at the sprawling Wandin Estate Winery, Wandin Kitchen is an elegant restaurant that offers bespoke, seasonal lunch and dinner menus. Produce comes from local suppliers and only the freshest ingredients make it to the kitchen. The high regard for fresh ingredients is even translated to the herbs and garnishes, which are plucked fresh from the kitchen garden. With such levels of detail, it's not surprising that the food is notoriously good. The menu showcases a fusion of techniques, textures, flavours and colours. The wagyu short rib with smoked carrot miso and the forest mushroom with truffle butter and soft quail egg will make your heart sing. All in all, Wandin Kitchen offers sumptuous food paired with award-winning wines in a gorgeous winery setting. 
Location:
576 De Beyers Road, Pokolbin 
Travel Time:
15-min drive
Opening Hours:
Friday & Saturday: 11.30am – 3.00pm, 5.30pm – 10.30pm
Sunday: 11.30am – 3.00pm
The food at Hunters Quarter is a testament to head chef, Brian Duncan. Armed with a breadth of experience having worked at Dorchester Hotel (three Michelin stars) and Claridge's Hotel (one Michelin star) in London, chef Brian believes good food is about technique but great food is about passion. To that, he is passionate about highlighting fresh, seasonal produce and bringing a unique and refined quality to his dishes. Simplicity wins the day with the clean and elegant seared scallops paired with miso chawanmushi. As well as the perfectly cooked and seasoned hibachi grilled spatchcock and the flavorful duck breast in Asian vinegar. Desserts are also a high point of the meal and the setting is sublime - a private terrace on vineyard grounds.
Location:
Mistletoe Lane & Hermitage Road, Pokolbin 
Travel Time:
13-min drive
Opening Hours:
Monday – Sunday: 8.00am – 10.00am, 6.00pm - 8.30pm
A meal with a view, the Mill restaurant is located on the sprawling grounds of Estate Tuscany and offers incredible mountain views. Resident executive chef, Bidur Subedi presents a delicious menu that marries contemporary cuisine with comfort food flavours. Only the finest local produce is sourced daily, including herbs, spices and edible flowers. Appetising dishes on the menu include the charred octopus with chimichurri, mushroom medley, twice-cooked pork belly with seared scallops and caramelised beef ribs. There is a small selection of desserts that are big on flavour and offer the perfect end to the meal. Choose from a 2 or 3-course menu or a 5-course tasting menu at this beautiful Hunter Valley restaurant with wine pairing options also available. 
Location:
64 Majors Lane, Lovedale
Travel Time:
15-min drive
Opening Hours:
Thursday – Monday : 11.00am – 3.00pm
A popular Hunter Valley artisan smokehouse in its own right, this cafe specialises in family-style charcuterie platters and low and slow barbecue. Set in a quiet, picturesque 100-acre vineyard, this casual spot is the perfect venue to enjoy a sumptuous charcuterie board with a glass of wine. Indulge in cold meats, a variety of cheeses, olives, jam and assorted nuts with baguette and crackers. The menu features mouth-watering spiced rub, and barbecue meats such as ribs, pulled pork and brisket. The kitchen also features food-truck style favourites such as smoked salmon salad, nachos, tacos and hoagies and toasties. Be sure to save room for dessert with their gelato bar. You have the option to enjoy your meal picnic-style in their expansive vineyard. This venue is pet-friendly so bring your fur baby on a fun day out and order them a healthy pupcake or a doggy doughnut as a treat.
Location:
Leogate Estate Wines, 1693 Broke Road, Pokolbin
Travel Time:
16-min drive
Opening Hours:
Friday – Tuesday: 11.30am – 3.30pm, 6.00pm – 9.00pm
Highlighting the best culinary techniques and traditions, The Gates Restaurant is Hunter Valley's fine dining at its best. Located on the grounds of the acclaimed Leogate Estate, this restaurant offers both à la carte and a premium 5-course degustation menu which are expertly paired with the estate's award-winning wines. If you love steaks, their well-seasoned Black Angus is hard to beat. Whole prime cuts of dry-aged beef are hung between 4 - 6 weeks before serving to achieve maximum concentration of flavour and tenderness. The whole experience here is sensational with views of the vines, fresh country air and superb hospitality from the staff. Having won the best restaurant in a winery category in the NSW and ACT Restaurant and Catering Association's Hostplus Awards for Excellent in 2020 has only spurred them to continue their standard of excellence.
Location:
Crowne Plaza Hunter Valley, 430 Wine Country Drive, Lovedale
Travel Time:
13-min drive
Opening Hours:
Monday – Wednesday: 6.30am – 10.00am
Thursday & Friday: 6.30am – 10.00am, 5.30pm - 10.30pm
Saturday & Sunday: 6.30am – 10.30am, 5.30pm - 10.30pm
Located at Crowne Plaza Hunter Valley, Redsalt Restaurant is the hotel's signature eatery that offers breakfast-to-dinner service. A hatted Hunter Valley restaurant renowned for their farmgate-to-plate culinary ethos, the kitchen boasts a strong relationship with local producers to ensure they hand-pick the best quality ingredients that showcase the spirit of the Hunter region. Expect seasonal ingredients cooked to perfection and presented beautifully. Start off your meal with appetising bites such as crispy zucchini flower and grilled watermelon with feta cheese before working your way to mains with classics such as duck confit or the Korean glazed lamb rump. For something a little special, treat your tastebuds to their 5-course degustation menu, paired with award-winning wines from the region.
Location:
697 Hermitage Road, Pokolbin
Travel Time:
14-min drive
Opening Hours:
Thursday & Sunday: 11.30am – 4.00pm
Friday & Saturday: 11.30am – 4.00pm, 6.00pm – 10pm
Helmed by two talents with over a decade of experience in the hospitality industry, chef Sam Alexander and sommelier Pas Hester are harnessing the power of open flames to bring excellent food to the region. Constantly pushing the boundaries of what food can be, Yellow Billy features bold transcontinental flavours cooked in a custom-built fire pit. The result? Complex smokiness that keeps customers coming back for more. Make a booking and experience the pairing of good food with the list of progressive wines available at Yellow Billy.
Location:
396 High Street, Maitland 
Travel Time:
26-min drive
Opening Hours:
Tuesday – Saturday : 7.30am – 11.00pm
Sunday : 7.30am – 2.00pm
The name Coquun stems from the local Wonnarua language which means Hunter River. Almost an ode to the ancient history of this land, and its first people, the menu at Coquun led by Head Chef, Bryce Reynolds showcases a contemporary menu of native ingredients. His claim to fame? Native food bowls whilst serving up intricate, artfully-designed plates. The kitchen takes pride in sourcing most of their ingredients from local farms, wineries, breweries and distilleries. This modern, refined Australian restaurant is located on the bank of the Hunter River in the Riverlink Building. 
Location:
2188 Broke Road, Pokolbin
Travel Time:
13-min drive
Opening Hours:
Friday – Monday : 5.30pm – 11.00pm
EXP. The restaurant offers something beyond the usual fare consisting of entrée, main and dessert. Instead, diners come here for an experimental tasting menu that promises to be delicious, entertaining and interactive. Sample the stunning multi-course menu led by Hunter Valley Chef, Frank Fawkner who expertly combines the best of seasonal ingredients and flavours. The wine list includes premium wines from the Hunter region and around Australia. Guests are guided through the experience of the restaurant's team of chefs, sommeliers and waiters. EXP was awarded Regional and Contemporary Restaurant of the Year by Restaurant and Caterers Association 2020.
Location:
790 McDonalds Road, Pokolbin
Travel Time:
10-min drive
Opening Hours:
Wednesday & Thursday: 12.00pm – 3.00pm
Friday & Saturday: 12.00pm – 3.00pm, 6.00pm – 9.00pm
Newly renovated, Esca Bimbadgen is a three-time award winner of Australia's Best National Restaurant In A Winery. The refreshed menu consists of Australian modern cuisine that features unmissable dishes such as the spice roast cauliflower and the roast pork belly with miso butter available in their Spring menu. Led by Executive Chef, Mark Marshall, the menu changes regularly, showcasing what's in season. Choose from three, four or five-course meals whilst sipping on some of the best wines in the region amidst spectacular views of the surrounding hills and vineyards.
Location:
555 Hermitage Road, Pokolbin
Travel Time:
14-min drive
Opening Hours:
Monday – Thursday: 6.00pm – 10.00pm
Friday – Sunday: 2.00 – 3.00pm, 6.00pm – 10.00pm
Restaurant Botanica continues to wow with inspired flavours, beautifully prepared to create impressive dishes. With the aim to provide diners with a great culinary experience, the menu features modern Australian cuisine with a stellar wine list. Led by Head Chef, Chris Rhoney, Restaurant Botanica is an award-winning food destination, having won the One Hat in the Australian Good Food Guide for the past 3 years and Two Glasses in the 2020 Gourmet Traveller Wine List of the Year. Choose from a three-course à la carte menu or a five-course tasting menu with a wine pairing option.
Location:
737 Lovedale Road, Lovedale
Travel Time:
13-min drive
Opening Hours:
Thursday – Monday: 11.00am – 5.00pm
Set against a stunning backdrop on a 25-acre estate, Leaves and Fishes immediately draws you in with their Balinese-inspired décor. The seafood-based menu includes fish and chips, Tasmanian scallops, soft shell crab in Singapore chilli sauce and many more. This place also harvests its own Silver Perch in the dam within the estate. Feeding the fish is great fun and a definite hit with the kids. A laid-back, informal dining approach, Leaves and Fishes has a no-reservation policy, only walk-ins. The restaurant was established in 2004, the Boathouses accommodation in 2008, and the Store in 2018 selling homewares, fashion, furniture and pantry items.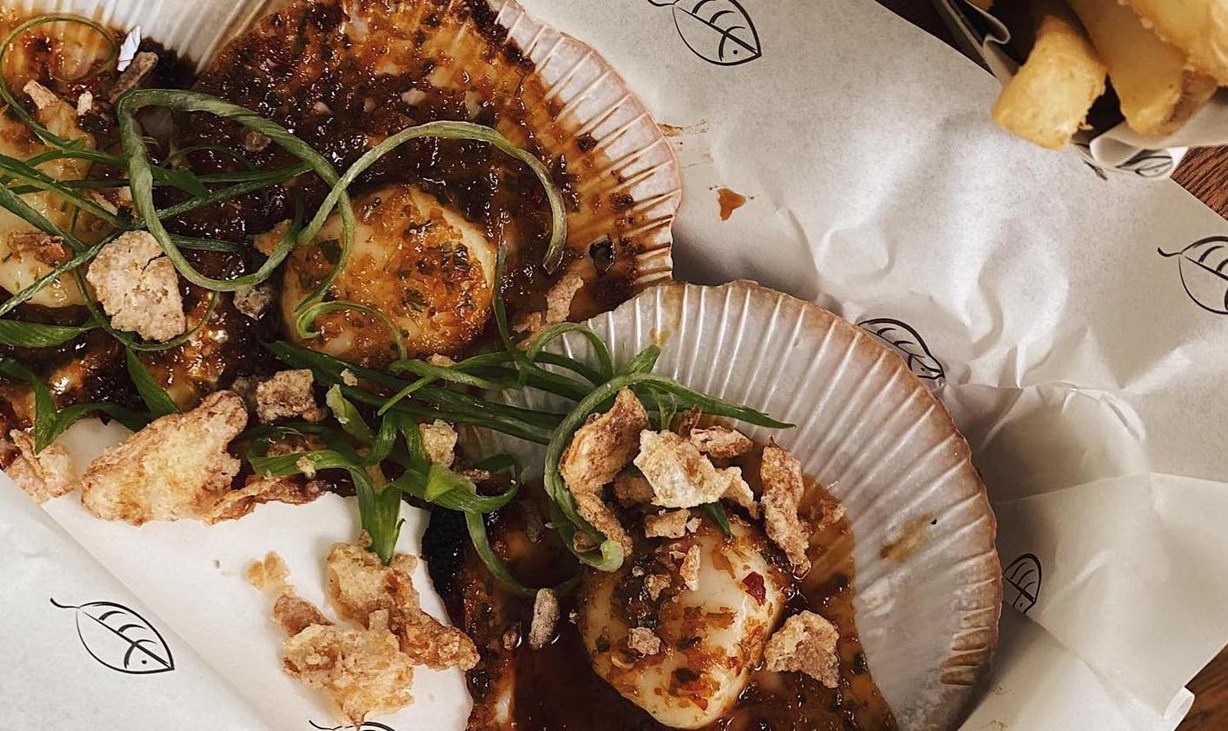 Location:
Peppers Creek Village
Broke Road & Ekerts Road, Pokolbin
Travel Time:
14-min drive
Opening Hours:
Monday – Sunday: 8.00am – 10.45am, 12.00pm – 2.45pm
Established in 1996, Café Enzo was one of the first cafes in the Hunter Valley. Set in the Tuscan-inspired Peppers Creek Village with sandstone buildings, landscaped gardens and stone fountains, this locale continues to dazzle with its homemade menu cooked with locally grown produce. The menu is modern Australian, delicious and made fresh to order. We are especially fond of the linguini with tiger prawns and pork belly. Nice casual spot for breakfast and lunch with ample free on-site parking. Booking is recommended, especially on weekends.
Location:
701 Lovedale Road, Rothbury
Travel Time:
13-min drive
Opening Hours:
Monday – Friday: 8.30am – 2.30pm
Saturday & Sunday: 8.00am – 2.30pm
Using beautiful, seasonal ingredients, The Deck Café serves up modern Australian dishes on an airy veranda that overlooks a lake nestled in greenery. Dishes range from classics with a twist to imaginative new creations that will excite the foodie in you. The tapas menu is designed for sharing. The duck liver parfait and baby calamari are touted to be particularly good. There is also an extensive vegetarian and gluten-free menu available. Overall, scrumptious food in an idyllic setting with welcoming and friendly staff. Also within the estate are farm animals that will keep the kids entertained.
Location:
477 Lovedale Road, Lovedale
Travel Time:
16-min drive
Opening Hours:
Thursday – Monday: 8.00am – 4.00pm
Based on the belief that food is a language that unites us, owners Tess and James Borg are adept at translating their food philosophy into delicious sharing plates. With a focus on Middle Eastern and South East Asian flavours, the menu has both classic and innovative offerings. With a beautiful venue, bold flavours and attentive service – it's easy to see why the Mockingbird is a firm favourite amongst locals and visitors.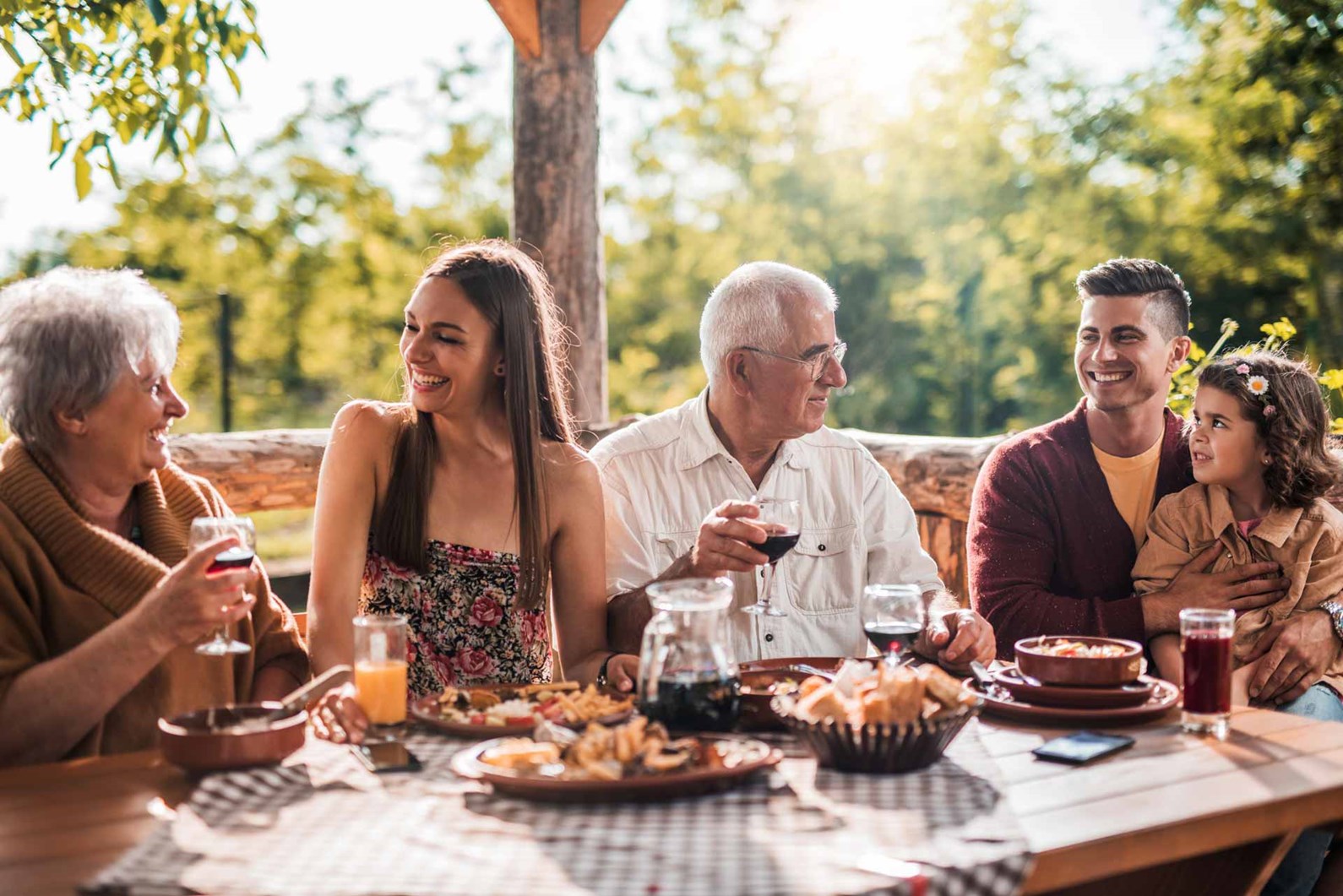 Bars
Location:
Brokenwood Wines, 401-427 McDonalds Road, Pokolbin
Travel Time:
13-min drive
Opening Hours:
Sunday – Thursday: 11.00am – 4.00pm
Friday & Saturday: 11.00am – 7.00pm
One of the highlights of the region, Brokenwood is not to be missed with its unique wine and food experiences. After exploring the sprawling 5-star winery to work up an appetite, head to the Cru Bar + Pantry for a sumptuous yet casual lunch. Led by executive chef Sean Townsend, this spot offers specialty dishes, woodfired pizzas and their famous charcuterie platters designed for sharing. The bar offers wine by the glass, bottle and from an Enomatic self-service dispenser featuring museum wines by the glass.
Location:
3 Empire Street, Branxton
Travel Time:
9-min drive
Opening Hours:
Monday – Wednesday: 7.00am –  12.00am
Thursday –  Saturday: 7.00am – 1.00am
Sunday: 8.00am – 12.00am
A favourite haunt with the locals, the Huntlee Tavern is a great casual spot for a fresh pint and scrumptious grub. The pub opens early and doesn't close until the wee hours of the morning, making it the perfect venue to hang out with your mates or watch the latest on-screen live action. The bar has a good mix of local and imported beers and a variety of delicious cocktails at reasonable prices. Expect good music all around with live music on the weekend. The food here will surpass your expectations of what pub food is. Using locally-sourced produce, this Hunter Valley gastro pub prides itself on its farm-to-plate experience and the menu is pretty extensive for a pub too. From all-day snacks which you can wash down with a beer to burgers and oven-baked salmon, Huntlee Tavern does more than keep your thirst at bay.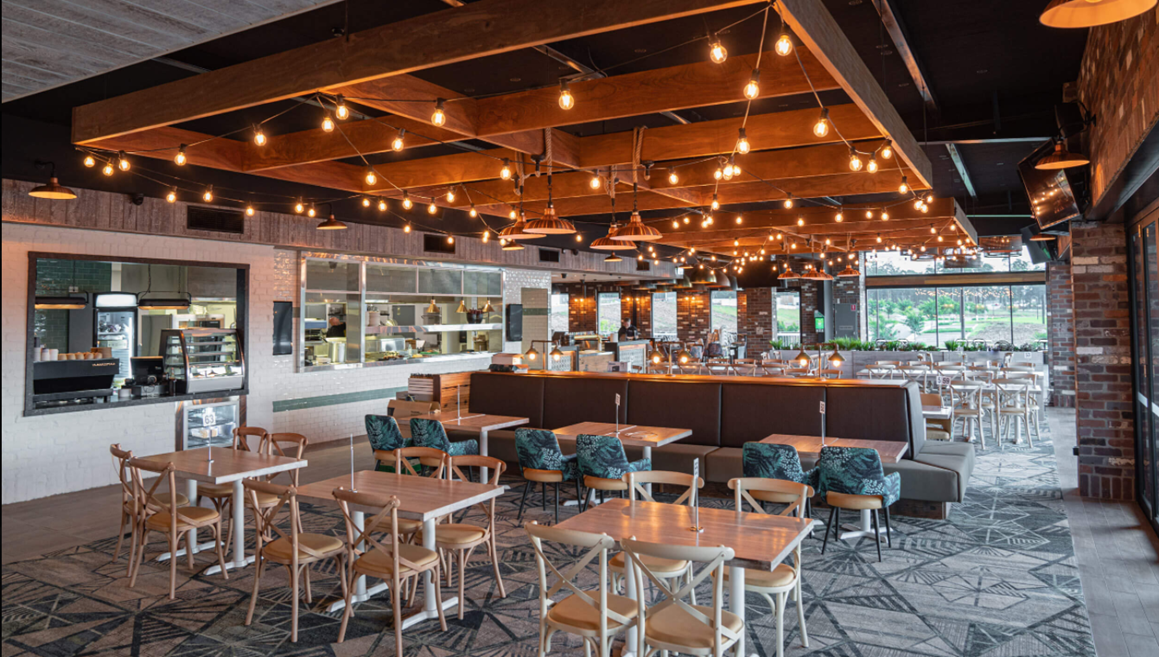 Location:
Crowne Plaza Hunter Valley, 430 Wine Country Drive, Lovedale 
Travel Time:
12-min drive
Opening Hours:
Monday – Friday: 10.00am – 9.00pm
Saturday – Sunday: 9.00am – 9.00pm
Lovedale Bar + Grill is part of the dining experience available at Crowne Plaza Hunter Valley. What makes this place thrive is the vast amount of food and drinks available. If you are with a large group, coming here just makes sense because there's bound to be something for everyone. This bar & grill has a variety of craft beers from their on-site brewery, Sydney Brewery Hunter Valley, located just next door. There's also a generous selection of sparkling, wines, cocktails and spirits. You can choose to relax indoors or enjoy your drinks in the outdoor beer garden. On weekends, the place hosts local musicians from 4.00pm - 10.30pm. The food here is great as well - wholesome and delicious and the options are endless. 
Location:
Mistletoe Lane & Hermitage Road, Pokolbin 
Travel Time:
12-min drive
Opening Hours:
Monday – Thursday: 12.00pm – 5.00pm
Friday – Sunday: 12.00pm – 9.00pm
If you are at Estate Tuscany, do not leave the estate without popping by the popular Brokenback Bar. Having a drink at this modern and elegant set-up that overlooks the pristine mountain views will no doubt be one of the highlights of your visit to the Hunter region. The menu features an endless array of wine, beer, cocktails, spirits, malts and cognac. When you're at one of the best wine districts anywhere in the world, sampling wines from the region goes without saying. The Hunter Valley Semillon is a popular choice and widely considered the iconic wine of the region. Do also sample wines from a variety of grapes including Shiraz, Chardonnay, Cabernet Sauvignon and Verdelho. The bar offers a wonderful cafe-style menu with delicious offerings such as Jamaican jerk chicken wings and a hearty coq au vin. Gather your favourite people and hang out here. 
Location:
136 Talga Road, Lovedale
Travel Time:
14-min drive
Opening Hours:
Thursday – Monday: 12.00pm – 3.00pm, 6.00pm – 9.00pm
Remaining popular since opening in 2011, Lillino's Bar and Trattoria's menu showcases the true flavours of Sardinia. Locally-sourced ingredients are matched with the finest produce from Italy such as Prosciutto di Parma, mozzarella, parmesan and pizza flour directly from Napoli to create strong classics. Don't skip the prawn linguine, the gnocchi with gorgonzola cream sauce or the pizza with rocket and prosciutto. Situated above the vines of St. Clements Estate, the restaurant has a serious wine list, all proudly estate-grown.