Let's chat about Huntlee and how you'd like to see the Hunter's newest town grow and prosper.
Nestled amongst the natural beauty of the Hunter Valley wine region, Huntlee is a new master-planned community offering the perfect mix of Hunter Valley charm, sustainable living and urban convenience.
With a vibrant town centre featuring parkland, supermarket, cafés, shops, schools and more, you and your family will enjoy a walkable lifestyle close to everything you need.
Plus, you'll be just minutes from the renowned wineries of the Hunter Valley, 45 minutes from the beautiful beaches of Newcastle and 90 minutes from the bright lights of Sydney.
Huntlee's first village, Katherine's Landing, is selling fast. Buy now and receive a Huntlee Advantages package valued at more than $16,500.
Advantages
LWP's guiding principle is to go beyond the plan in developing better places to live, work and play. When we create a community, the aim is to create lifestyles, employment opportunities, leisure spaces, relationships and connectedness.
Katherine's Landing
Our village is coming to life.
Huntlee in a snapshot
45 mins from Newcastle
Straight down the M15 Hunter Expressway
7,500 homes | 20000 residents
Four villages surrounding a contemporary town centre
Priced to suit all budgets
160ha of beautiful parklands
Extensive public open space for the family to enjoy
Huntlee is the new town in the heart of the Hunter - a brand new community  designed to grow as a traditional, vibrant neighbourhood with convenient access to everything you'll need. Education, Coles supermarket and a full range of shops, together with medical facilities, parks and cycleways and big box shopping.

And with freeway access to Newcastle and to Sydney (90 minutes to the northern suburbs), living at Huntlee means that you can have a great quality of life while still working in the hustle and bustle if you need to!
Community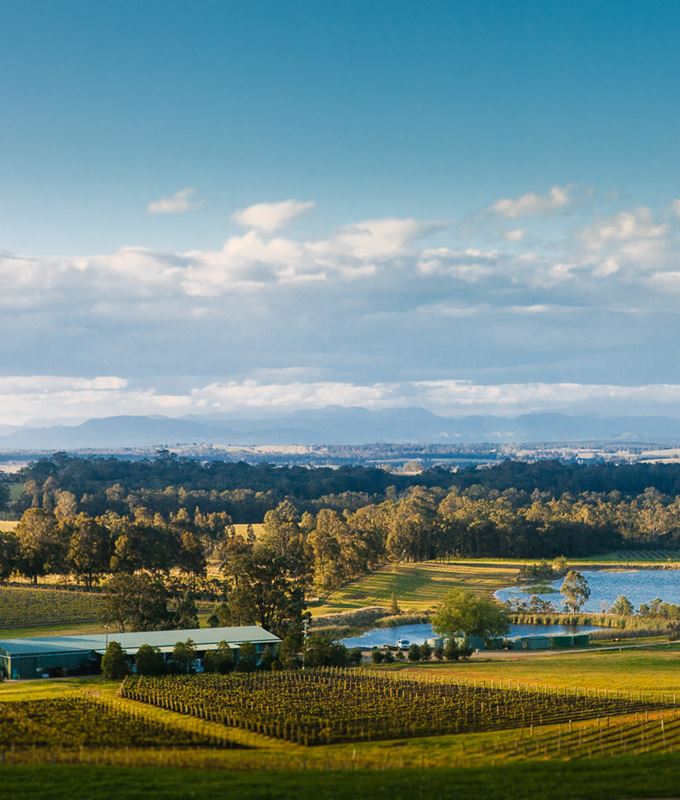 Connected location
A great place to live, work and play
Huntlee is situated in a connected countryside location on Wine Country Drive with direct access to the Hunter Expressway, New England Highway and Branxton Train Station.
Travel a few minutes along Wine Country Drive and spend the day relaxing at the Hunter Valley's acclaimed wineries, restaurants, cafés, gourmet shops, golf courses and spas.
When you need to travel further afield, the nearby Hunter Expressway can connect you to Newcastle in less than an hour, the Central Coast in just over an hour, and Sydney in an hour and a half.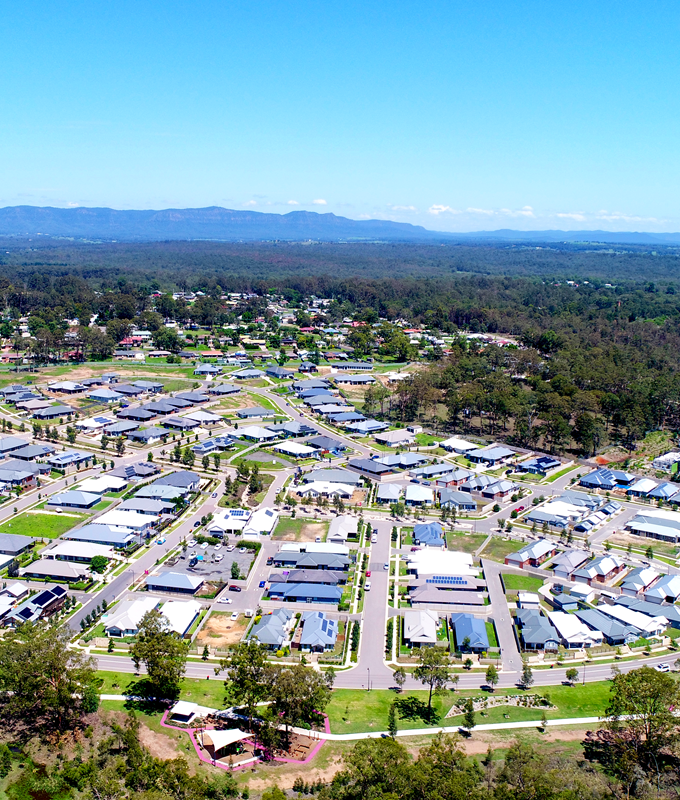 Thriving master-planned community
The first new town in the Hunter for over 50 years
As the first new town in the Hunter Valley for more than 50 years, Huntlee has been master-planned to accommodate a thriving community of 20,000 residents over the next two decades. 
At the heart of Huntlee is a vibrant town centre boasting a range of modern amenities including Coles supermarket, specialty stores, cafés, medical facilities, playgrounds and  in future, schools and sporting fields – all connected by 40km of pathways.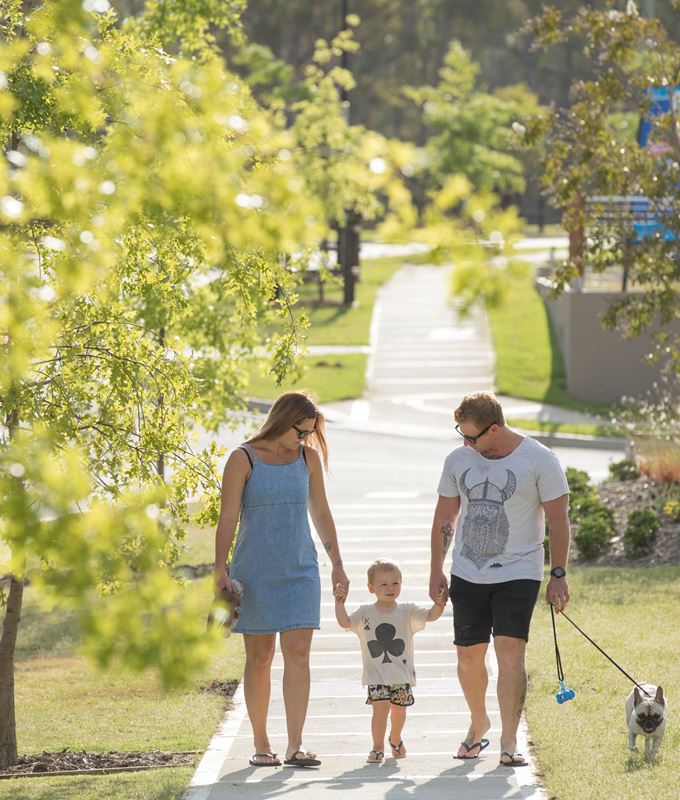 Enjoy spectacular views at Katherine's landing
Planned to fit in the Hunter Valley
Huntlee has been meticulously designed with four self-sustaining villages connected to the town centre via tree-lined streets and a network of pathways.
The first village to be released at Huntlee is Katherine's Landing, which takes advantage of the undulating countryside to provide spectacular views of the surrounding Hunter Valley.
Many are already enjoying the tranquil setting of Katherine's Landing. Don't miss out, visit our land for sale page to choose from a wide range of available lots.
Huntlee Advantages - $16500 extra value*
Huntlee Water
with recycled water included in your purchase! (no rainwater tank required)
Front yard landscaping
a beautiful bonus for your new home.  All the hard work is done at no extra cost!
Natural Gas
reticulated natural gas line provided to every lot.
Side and rear fencing
you won't have to spend on fencing - it's included.
High speed internet
the cost of fibre to the premises is also included.
Learn more